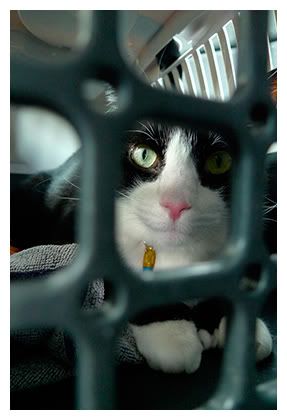 Både Polly och Oliver avskyr att åka bil. Varje gång jag börjar packa är de genast puts väck. Jag får alltid dra fram dem från under sängen. Polly jamar hjärtskärande och kurar ihop sig till en liten boll. Jag känner mig som en bov varje gång. Ibland jamar de hela resan hem till mina föräldrar. Åtta mil med Pollys pipiga mjau mjau mjau mjau varvat med några enstaka mörkare mjauuu mjauuu från Olivier.
Den här gången gick det ganska bra. De var väldigt nöjda när vi kom hem. Nu ligger de och vilar i soffan. Jag ska strax göra dem sällskap. Och så ska jag börja virka på en tax. :-)
We went to my folks this weekend. Polly and Olivier hates to travel.